Monarch Mooring Line Mates
Makes Docking Easy Even In Heavy Weather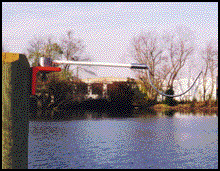 Stern Line Holder
Mounts on the side of bulkhead or piling.
At Last there is a quick, easy, and sure way to reach those mooring lines. Monarch's Mooring Line Mates solve the problem. As a boater you've experienced the frustrations of docking (or trying to dock) during strong winds. You can't reach, or even find, those mooring lines. Monarch's Mooring Line Mates guarantee your lines will always be right where you need them when split second timing is everything. Easy to reach, they swing to and away from you. They have an adjustable stop with a friction clutch, and are constructed of fiberglass rods, stainless steel hooks, and marine grade aluminum mounts. All hardware is stainless steel.

Mooring Line Mates carry a one (1) year warranty against defective workrmanship.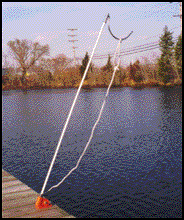 Stern Line Holder
Mounts on top of deck or bulkhead.
The Line Mate Junior
The Handiest Dockside Holder Made
Line Mate Jr. is designed to hold your mooring lines. This unique product is also ideal for keeping dockside power lines from hanging in the water-or for water hoses so they are out of the way, so no one can trip on them. A handy aid in docking on windy days, when docking can be a problem. Use your boat hook to grab onto the Line Mate Jr. and pull boat toward dock. The Line Mate Jr. is a heavy-duty casting made of Almag 35. A composition of Aluminum for corrosion resistance and Magnesium for strength.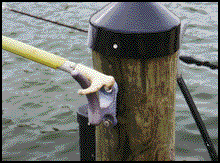 The Line Mate Junior