Release and Board
Monarch's Exclusive Remote
Click it's released Let go and it's Locked!

Release it ... The boat comes in to the Dock.
Pull it... the boat goes back out.
All this, and you still maintain full tension on the whip.

* Ideal for conditions where you have a boarding problem.

* Ideal where you have a problem when putting your mooring cover on.

* Ideal for the LADY MATE to come aboard

The Dockside Release Board is an accessory for Sets I, II, III and Nor' Easter. Can be adapted to existing Moor Whip tip. Designed to retain full whip strength and allow easy boarding.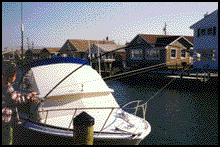 Ten sion on mooring whip.