The "PROP COP"
The Ultimate Protection for Your Propeller
Propeller theft is a common occurrence today. The Prop Cop changes that, making it almost impossible to steal your propeller. The Prop Cop is specifically designed to protect High Performance Propellers, but can be used on standard units as well as counter rotating propellers. It is a precision made, superior quality product that protects against theft by obstructing access to the propeller nut. It can be used during transit, on a boat lift, or in the water. The adapter is specially coated for wear and isolation of electrolysis, and is precision machined-running concentric with the propeller shaft-spinning freely during operation of your boat. Designed to fit most propellers it is simple to in stall.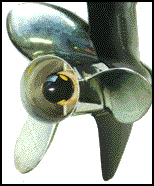 The PROP COP,
The ultimate protection for your propeller!.
The PROpaTECTOR
Our Lower Priced Security Devise
The PROPATECTOR is a propellor locking device which can be used on land, transit or water use. Designed to fit most standard propellers. The aluminum cone is anodized and spins freely when in use. The PROPATECTOR has the same basic design as the Prop Cop at a lower price.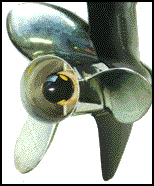 The PROpaTECTOR