Monarch Moor Whips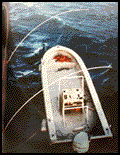 Why Should You Buy Monarch Moor Whips? -Your boat is an expensive investment and repairs are becoming more expensive every day. The smallest part of your investment could be in providing protection for your boat, so why not make it the best?

Monarch Moor Whips are designed to keep your boat safe in all types of weather. Monarch Moor Whips, designed and manufactured by a boat man, provide reliable protection against dockside, or seawall damage. They have tapered, solid fiberglass poles, working like strong shock absorbers, to apply constant pressure to your boat- keeping it a safe distance from the dock or seawall. This affords protection against boat wakes, or storms. There are sizes available for most boats-power, or sail.
The Whips
Monarch Mooring Whips are made of a special, solid fiberglass. The poles are cut to specified lengths and the blanks are then centerless ground to give them a precision taper. They are painted to protect them from the deteriorating effects of ultra violet rays from the Sun. They come in different lengths, diameters and tapers for flexibility and strength accommodating different size boats.

Which Whip Is Right For You? Chart

The Installation

Monarch Moor Whips are easy to install!

The bow and stern lines are tied to a piling, cleats, or the bulkhead (if there is no dock) and the two spring lines criss-cross. These lines are for control of fore and aft movement.
The Bases
The patented mooring bases are unique in their design. The Nor' Easter is adjustable and practical-yet has no moving parts . The Pivot-a-way is an innovative unit that returns the whip to a vertical position when released from the boat making docking easier. The Sou'Easter offers the budget conscious boater the same security as the rest of our unit at a lower price. The Flush Mount and Rail Mount bases are specially designed to mount on your yacht.

The Warranty
All our products have a one (1) year warranty against defective workmanship, and Mooring Whips have a five (5) year limited warranty.