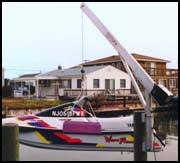 Photo:800lb. capacity davit lowering a PWC.
Lifting Harness for PWC
Aluminum construction.
Available with nylon coating or uncoated.
All cables are galvinized and covered with a clear tubing to prevent marking your PWC.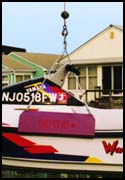 Photo: Close-up of the harness.
PWC Davit
Monarch's Personal Watercraft Davit provides a simple, and reliable solution to launching and removing personal watercraft at your own dock.
Its aluminum construction makes it light in weight for ease of handling and provides a high degree of corrosion resistance.
Special bearings within the unit make rotation easy when launching or removing the watercraft from the water.
The Vertical Piling Mount is shown in the photo.
Comes with standard 5 foot boom; 6 foot boom also available.
Comes standard with a manual brake winch.
5 lb. lead ball to keep tension on cable when not in use.
VEKTON Bearings for smooth easy rotation.
Electric llO volt winch available for any lifting lowering of PWC for the whole family.