The Steering Mate
Steering Cable Lubrication Fitting
With the unique funnel design that directs lubricant to critical area. Keeps moisture and dirt out reducing the risk of steering failure.
The Steering Mate II
Threads onto helm side of tilt tube, allowing lubriction of this critical side.
Steering Mate II comes with the unique patented funnel design.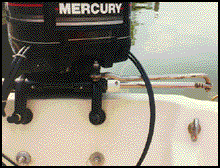 Photo: The Steering Mate II